Localizado próximo 
a International Drive, o Orlando Vineland Premium Outlet, tem várias lojas bem legais que nós brasileiros adoramos, como Nike, Adidas, Timberland, Aeropostale, American Eagle, Asics, Billa Bong e outras mais. Como todo Outlet se você não se programar pode acabar não aproveitando inteiro, portanto quando estiver fazendo o seu roteiro, não deixe de ver quais as principais lojas que você quer visitar e faça um itinerário das lojas. Assim todos conseguem aproveitar bem as compras.
Dicas: Para a sua visita ao Outlet seja menos cansativa, quando for leve uma mala vazia, sim uma mala vazia. Com as compras vamos nos enchendo de sacolas e vai tudo ficando pesado, então para ficar mais confortável e não esquecer as sacolas por ai, leve uma mala grande, ai você vai fazendo as suas compra e vai colocando dentro da mala. Não precisa ficar com vergonha, afinal todos estão lá com o mesmo interesse, compras! Se estiver de carro, não deixe nada das compras no carro, afinal ladrão tem por todo o mundo, então carregue sempre tudo com você.
 Mapa do Outlet: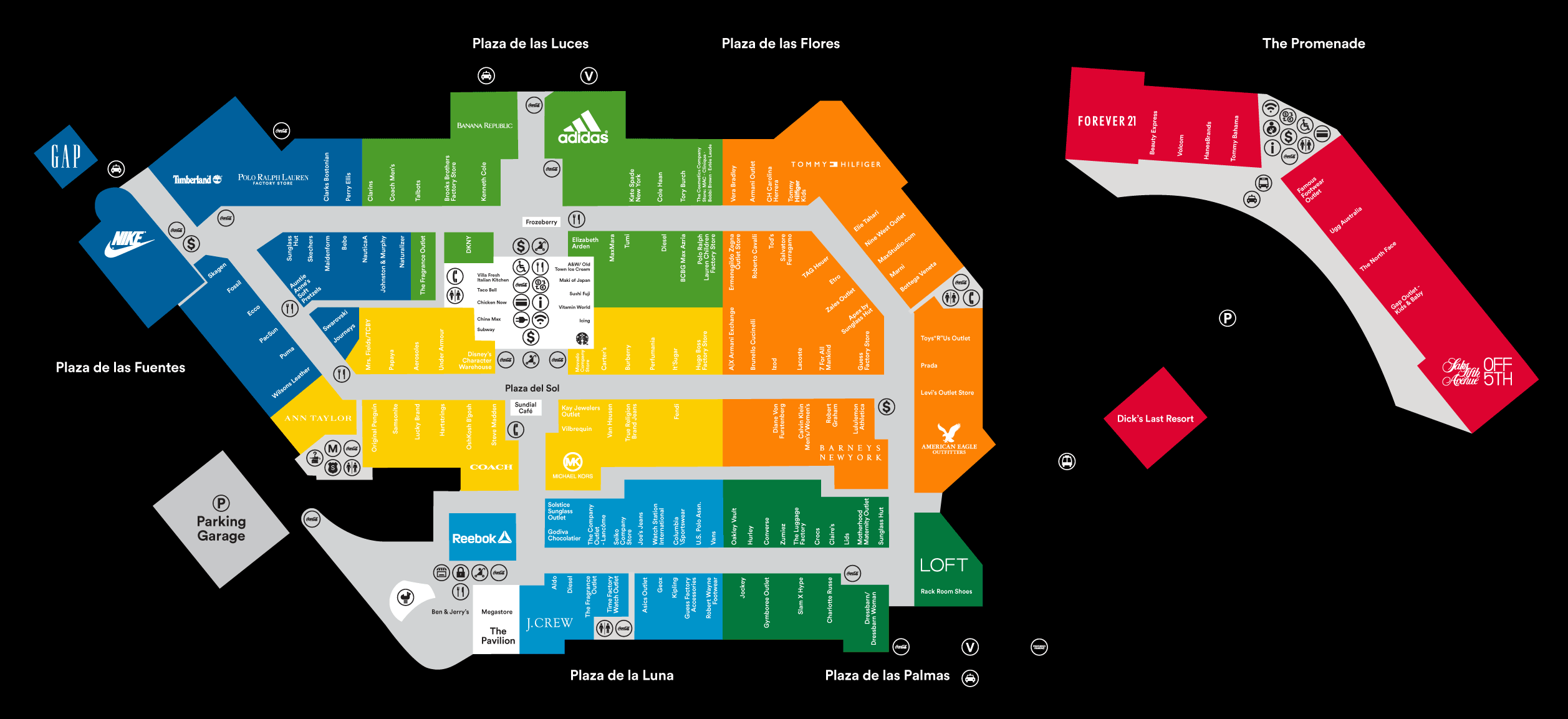 Como no Orlando international Premium Outlet, o da Vineland também possui o mesmo sistema de cupons de descontos, portanto se você se já cadastrou para o Orlando international Premium Outlet não vai precisar se cadastrar novamente, caso não tenha se cadastrado Clique Aqui, dentro login do site do Outlet você terá a opção de escolher de qual Outlet você gostaria de pegar os cupons, selecione, imprima e não esqueça de pegar também o BOOK para ter mais descontos. Só lembrando que para adquirir os cupons de descontos não se paga absolutamente nada.
**BOOK – Um livro de descontos dos Outlets, caso não pegue pelo site, você pode pagar US$ 5,00 por ele no balcão de informações do Outlet.
Se você está sem carro em Orlando e quer ir aos Outlets e não sabe como, a rede de Outlets oferece transportes gratuitos partindo de alguns hotéis. Caso você esteva em alta temporada é bom fazer o agendamento. Para fazer o agendamento do serviço Clique Aqui.
Hotéis participantes
Avanti Resort Orlando, Orlando
Best Western Lake Buena Vista Resort Hotel, Lake Buena Vista
Courtyard Orlando International Drive/Convention Center, Orlando
Courtyard Orlando Lake Buena Vista in the Marriott Villiage, Orlando
Delta Orlando Lake Buena Vista
Embassy Suites Hotels, Orlando
Fairfield Inn & Suites Lake Buena Vista, Orlando
Fairfield Inn & Suites Orlando at SeaWorld, Orlando 
Fairfield Inn Orlando Lake Buena Vista in the Marriott Village, Orlando
The Floridian Hotel & Suites, Orlando
Florida Spirit Vacation Homes, Orlando
Floridays, Orlando
Hilton Garden Inn Airport, Orlando
Hilton Garden Inn – Orlando at SeaWorld International Center, Orlando
Hilton Garden Inn Orlando, International 
Holiday Inn Express Hotel & Suites nearest Universal 
Homewood Suites – Universal, Orlando
Hyatt Place Orlando Universal 
Omni Hotel & Resorts, ChampionsGate 
The Palms Hotel & Villas, Kissimmee
Residence Inn Lake Buena Vista, Orlando
Residence Inn by Marriott Convention Center, Orlando
Renaissance Orlando at SeaWorld, Orlando
Reunion Resort, Kissimmee
Sonesta ES Suites, Orlando
SpringHill Suites by Marriott International Drive Area, Orlando 
SpringHill Suites Orlando at SeaWorld, Orlando 
SpringHill Suites Orlando Lake Buena Vista in Marriott Village, Orlando
Vista Cay Resorts by Millenium, Orlando 
Endereço:

8200 Vineland Ave, Orlando, FL 32821-6811
Horários de funcionamento:
De segunda á Sexta das 10:00 às 23:00
Aos Domingos das 10:00 às 21:00.